Bookshelf
Innovation, Abundance, Customer Service, Leadership & More [CEO Bookshelf]
31 CEO Nuggets, Business Tips & Lessons from the Entrepreneur's Bookshelf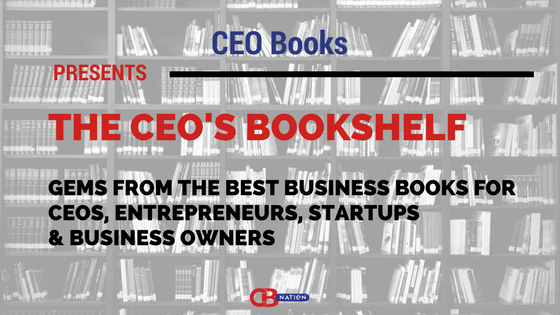 You've heard you are what you eat, well we believe that you are what you read. Teach a CEO presents lessons from our CEO Bookshelf on how you can improve and grow your venture. We have taken gems or nuggets from our library and provide them for CEOs, startups, entrepreneurs and business owners. Get your copy of these books and more at CEO Books.
Alignment – CEO Nuggets – 3 Nuggets
Aligning things means that there is only One Version…. Aligning things also means that those things deliver One Message. In other words, your vision statements, mission statements, strategies, policies, goals, products, metrics, systems, etc. must be in alignment with each other. Aligning people means you must align them with your things, and you must align them with each other. (Drive One Direction)
Alignment is a complex, multidimensional problem. Therefore, aligning your company requires an integrated multidisciplinary approach. The Drive One Direction methodology includes twelve components (one team, one thing, one vision, one mission, one code, one brand, one strategy, one portfolio, one way, one wow!, one plan, and everyone). (Drive One Direction)
Alignment is mission-critical. (Drive One Direction)
Leadership – CEO Nuggets – 5 Nuggets
Abundance – CEO Nuggets – 6 Nuggets
Decisions – CEO Nuggets – 7 Nuggets
Customer Service – CEO Nuggets – 4 Nuggets
Innovation – CEO Nuggets – 6 Nuggets
Books on The CEO Bookshelf
Descriptions are from Amazon.com. Check out this edition at CEO Books.
Drive One Direction: How to Unleash the Accelerating Power of Alignment by Dave Ramos – Every company is moving. But most are moving in a hundred different directions. In contrast, fast-lane companies apply intense management discipline to drive their organizations in One Direction. Dave Ramos, the CEO of SHIFTPOINTS, studied over 300 companies, interviewed over 100 Chief Executive Officers, and he came to One Conclusion: Alignment is the Ultimate Competitive AdvantageTM! Harvard Business School professors Robert S. Kaplan and David P. Norton confirm this idea, "Alignment, much like the synchronism achieved by a high-performance rowing crew, produces dramatic benefits."This book contains over fifty case studies about fast-lane companies including Amazon, Tesla, Netflix, and more. It presents a comprehensive methodology that will help your company unleash the accelerating power of alignment.So, is everyone in your organization driving in One Direction?
Above the Line: Living and Leading with Heart by  A leadership consultant and neuropsychologist identify the universal habits of the heart and mind—the keys to unlocking our true potential, creating our best selves and eliminating behavior patterns that hold us back. Why is it so hard for leaders to coach employees who are struggling? Why do we repeat the same mistakes and negative behaviors? Common wisdom says you always have a choice in how you react or respond. But, as corporate consultant Stephen Klemich and clinical psychologist Mara Klemich contend, until you recognize why you make choices, and how the heart and the brain work together to shape your behavior, you can't change long-ingrained patterns and discover your best self. The Klemichs have developed a model backed by extensive research and data, and paired it with character-led personal development, to help you answer the "Why?" and eliminate behavior that is "below the line." In Above the Line, they argue that that the quality of your life flows from the attitudes of your heart. Offering wise, compassionate, and practical advice, this book explores the deep, fundamental drivers of human behavior that exist within your heart—the seat of your character. It reveals that all of these behaviors can be explained by four principles—humility, love, pride, and fear—which influence every facet of your life, for better or for worse. We are all designed for greatness, but so often our best self is pitted against our worst. The pressures of life are pulling our character below the line while our authentic self is drawing us to live above the line. When you fully understand that the four principles are at the root of your behavior, you can begin the journey to become your best self and navigate life more effectively and successfully. Filled with proven strategies, Above the Line will create lasting changes in your behavior and improve your life personally and professionally—so you can make a positive impact on the world around you.
Abundance Now: Amplify Your Life & Achieve Prosperity Today by Lisa Nichols and Janet Switzer –New York Times bestselling author, Personal Transformation guru, and life coach for the Steve Harvey Show and Today, Lisa Nichols shares her journey from scarcity to abundance, outlining steps everyone can take to create abundance in career, relationships, self, and finances—while creating a legacy for others to follow. Twenty years ago, Lisa Nichols was a single mother dependent on public assistance and jumping from one dead end job to the next. Determined to break out of the defeatist mindset, negative behavior, and bad habits that were holding her back from success, she resolved to change her life. Today, she leads the life of her dreams. In Abundance Now, this icon in the field of personal transformation shares her secrets to creating a life that is rich in every way possible. Focusing on the four areas of life that must be refined to bring true abundance, or the 4 E's—Enrichment, Enchantment, Engagement, Endowment—Nichols identifies the framework upon which a fulfilled existence is built. Abundance Now offers provocative lessons, actionable plans and real-life case-studies, and makes clear what we must do every day to attract abundance, how to act as if we are already leading abundant lives, and how to open the door to a life of richness in our work, our relationships, our finances, and in our view of ourselves.
Decisions: Practical Advice from 23 Men and Women Who Shaped the World by Robert L. Dilenschneider – Your Future Depends on Your Decisions – Sorting out our lives amidst chaos, confusion, and innumerable options is a process we all have in common. The decisions we ultimately make can affect our lives and the lives of others. It's not always easy. In this empowering guide, an expert in business strategies shares the choices of notable, visionary decision-makers—from Harry Truman and Henry Ford to Marie Curie and Malala Yousafzai—and explains how you can apply their principles to your own personal and professional real-life scenarios. Resolve, patience, and practical thinking—take it from these politicians, scientists, economists, inventors, entrepreneurs, theologians, activists, and commanders of war and peace. Their inspiring counsel will give you the tools you need to help change your life. Both big and small, your choices can shape the minutes, days, weeks, and years ahead. This book is the first motivating step in the right direction.
Ignore Your Customers (and They'll Go Away): The Simple Playbook for Delivering the Ultimate Customer Service Experience by Micah Solomon – The ultimate, practical guide to transforming your customer service, company culture, and customer experience, endorsed by all the top names in the field. Great customer service may be today's most essential competitive advantage. Yet when it comes to delivering great customer service and a great customer experience, most companies tragically continue to miss the mark. But you can succeed where so many have failed:  Ignore Your Customers (and They'll Go Away) spells out, step by step, how to craft a customer service culture and customer experience so powerful that they'll transform your organization and boost your company's bottom line. You'll enjoy inspirational, often hilarious, tales from the trenches as author Micah Solomon, one of the world's best-known customer service consultants and thought leaders, brings you with him on hands-on adventures assessing and transforming customer service in a variety of industries. (Ever wonder what it's like to mystery shop, for instance, a luxury spa, where you get paid for your opinions while receiving a massage and a manicure-for research purposes, of course?) You'll spend time behind the scenes with Zappos CEO Tony Hsieh and discover how Zappos delivers "wow" customer service. You'll visit personally with Richard Branson to learn how Virgin brands deliver authentic customer service (avoiding what Branson calls "Stepford Customer Service") and learn Branson's secrets for turning social media attackers into brand promoters. Drawing on a wealth of stories personally assembled from today's most innovative and successful companies-including Amazon, Cleveland Clinic, Drybar, USAA, The Ritz-Carlton Hotel Company, Nordstrom, MOD Pizza, Nextiva, and more-Solomon reveals what it takes to turn a ho-hum customer interaction into one that drives customer engagement and lifelong loyalty.
Innovation on Tap: Stories of Entrepreneurship from the Cotton Gin to Broadway's Hamilton by Eric B. Schultz – Innovation on Tap is the story of 300 years of innovation in America told through the eyes of 25 entrepreneurs–living and departed–who have gathered to "talk shop" in an imaginary barroom under the watchful eye of economist-turned-bouncer, Joseph Schumpeter. From Eli Whitney and his cotton gin to the Broadway smash, Hamilton, their stories capture the essential themes of entrepreneurship, highlight the rules for success, and celebrate the expansive sweep of innovations that have transformed our world.