Bookshelf
Success, Business Strategy, Innovation, Management, & More [CEO Bookshelf]
46 CEO Nuggets, Business Tips & Lessons from the Entrepreneur's Bookshelf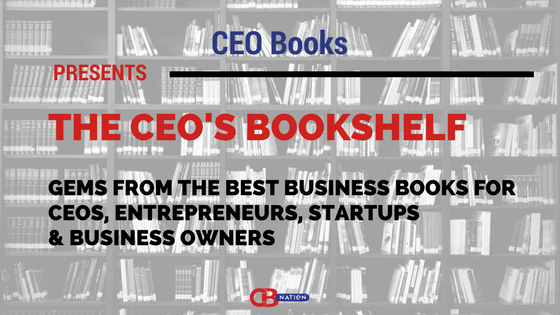 You've heard you are what you eat, well we believe that you are what you read. Teach a CEO presents lessons from our CEO Bookshelf on how you can improve and grow your venture. We have taken gems or nuggets from our library and provide them for CEO's, startups, entrepreneurs and business owners. Get your copy of these books and more at CEO Books.
Success – 7 Nuggets
Young Entrepreneurship – 5 Nuggets
Management – 8 Nuggets
Emotional Intelligence – 4 Nuggets
Persuasion – 6 Nuggets
Stress & Pressure – 5 Nuggets
General Business – 11 Nuggets
There is a responsibility for businesses to step up and use their reach, assets, and influence for good. But this is more than a responsibility; it's also simply good business. As the world continues to shift, it is becoming increasingly clear that you can no longer do well without doing good. (The GuruBook) 
The best way to become a billionaire is to help a billion people. (The GuruBook) 
Make sure you have a bold and visionary ambition. People generally won't risk their life (or time) on something is not meaningful. Very few people will take that step into emptiness to make 1%–better toilet paper. (The GuruBook) 
Most startups fail because it's hard. There are so many things that have to go right, so there's a lot of luck. (The GuruBook)
The stronger the culture, the less corporate process a company names. (The GuruBook)
Innovation is still the single best chance we have to create things to solve the many wicked problems of our planet…. Innovation should be ambitious. (The GuruBook)
For entrepreneurs, failure is not defeat. Rather, failure becomes an opportunity to learn from missteps and move forward. (Building Blocks)
In many ways, making a good merger is like making a good hire. The fit must be right professionally and culturally or it won't work. (Building Blocks)
To move forward, and grow the way one wants to grow, firms need to take the time to develop a vision and a strategy that lays out a roadmap for the future. There isn't room for a lot of secrets. Everyone has access to the same information. The difference lies in execution. (Building Blocks)
Sometimes, when starting a business, you tend to only think about your vision. That is only a beginning… it doesn't get the business started. The true first step is writing–on paper–the top three to five things that will move the vision from idea to reality. (Building Blocks)
In the world of business, continuously improving your firm may mean deviating from the traditional view of what a firm is. (Building Blocks)
Books on The CEO Bookshelf
Descriptions are from Amazon.com. Check out this edition at CEO Books.