It is no secret that SMS has been revolutionizing the way we communicate, whether this is for personal or business-related purposes. SMS has been besting other highly productive forms of communication. As a result companies have adopted text messaging for running their businesses more competently.
The secret behind the immediate success of SMS is its capability to surpass other communication channels like Live Chat, Email, Calls, and Video Messaging. Although SMS has its limitations, it doesn't stop text messaging from influencing a wider breadth of businesses in terms of prompting effective communication and support services for customers.
Take a look at the pros and cons below and discover why SMS is the finest choice for modern-day business communication and customer support software: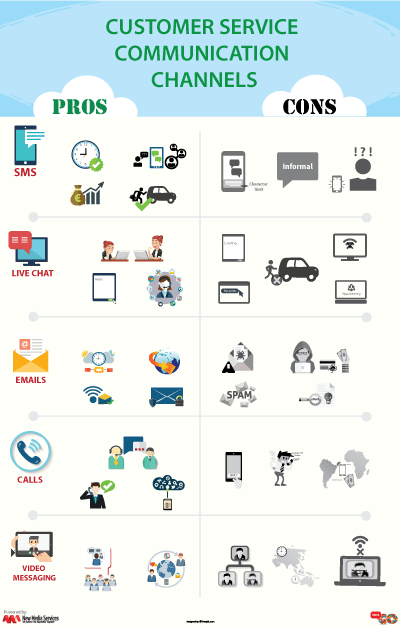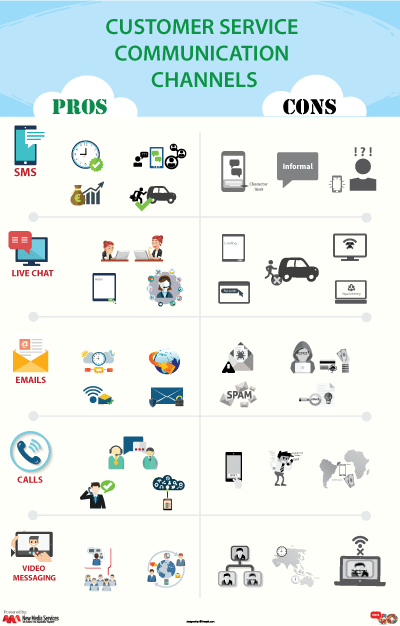 The infographic above shows that Live Chat enables live interaction between agents and customers, multitasking for support agents and addressing multiple client concerns. Once an agent goes online, all customer messages can be dealt with one by one. For email, it can be sent at any time of the day or night as long as you have a good internet connection and an email account. Most email accounts are free which cuts costs for business owners. Email is still the most extensively used and generally acceptable means of communication.
Meanwhile, calls have been the standard communication channel for customer support. Calls help agents and customers exchange immediate feedback, while enabling a clear and direct way of conveying instructions and explanations along with assessing emotions through intonation and listening. There are also companies that employ internet-based calls because it is free of charge.
Video messaging is best used for setting up or initiating conferences. If you have personnel assigned to different branches of your office and wish to have a meeting with them, video messaging is the perfect option because it lets you see and hear all the people you need to communicate with, exchange files and send links without hassle, and brainstorm together as though you were all sitting in the same room.
Now that all the advantages have been explored, let's move on to each customer support software and channel's drawbacks:
Live Chat is susceptible to many technical hindrances, such as long reloading time while waiting for new incoming messages, restarting the page after staying inactive for long durations and losing the entire conversation history. In some instances the chat software used is incompatible with some smartphone models, or the live chat provider bombards you with ads in the chat window. The only option to stop all those advertisements from popping up is through making use of a more premium version of their service. Internet connection and a computer are vital elements to initiate and maintain communication with your customers for Live Chat, Email, and Video Messaging, thus making all three impractical for clients, staff and business partners who are on-the-go or are traveling. Both email and video messaging allow exchanging of files, but fall short on lack of accessibility when there is no internet connection. Video messaging is also not ideal for contacting people living in different time zones. When used as a tool for customer assistance, customers might find it a bit too intrusive since they would usually prefer raising their concerns without having to expose their physical identity.
Although emails can be sent at any time of the day, there is no guarantee that it will be received or read in real-time. If you want to include email marketing in your advertising strategy, it may not be the most ideal option since many individuals tend to use multiple email accounts or switch emails often. Emails have lower open rates compared to SMS, and there is also a possibility that your messages will be redirected to the spam folder. When attachments are included in emails, some files may possibly contain harmful viruses like malware that will damage your computer system once you open or download it. Worse yet, there are still online scammers who phish viable and private information through email even at this day and age.
Calls do not allow for the exchange of files, and being put on hold is inevitable. One of the main hindrances for call support is bad reception, a factor that can dramatically decrease client satisfaction. The customer could be calling from a location with too much hustle and bustle in the background, preventing clear communication with the agent. Clients get agitated easily with slow response time, long waiting times, and expensive charges for overseas calls.
All the above-mentioned channels and software for customer support are effective in their own ways, but the limitations of each service fail to deliver satisfaction and a more well-rounded assistance to different customers and business partners. But, with text messaging used as a customer support software and tool for effective business management, there are more win-win situations for both the business owners and the clients. SMS can be personalized without having to be too intrusive. It enables quick, real-time conversations wherever, whenever. You can record past conversations for easier reviewing, save contact numbers of customers and business partners, and have multiple agents take turns to help out a customer. It is mobile-friendly, allows for the exchange of files, does not require an internet connection and has significantly higher engagement rates than emails and other forms of communication for support.
Letting your customers contact you via SMS obliges them to save your number and make it easier for them to contact you. Such convenience for your end-user will likely encourage them to reach out to you more often and provide viable suggestions on how you can improve your services. With texting, your support agents are driven to be more creative and concise when providing assistance. They can be friendly and a little casual and refrain from being monotonous, stiff or too formal. After all, an approachable and light atmosphere helps lessen anxiety and aggression for customers.
Best of all, SMS is cost-effective because it can be adapted by small, mid-sized and large businesses.
If you're still not convinced that SMS is the best and most crucial addition to improving your support services and business operations, you can click here to discover more about the amazing potentials of text messaging for businesses and customer support.
This guest post is courtesy of Christine Pelien ofSMS Go.