Infographic
The Megaphone of Main Street Small Jobs Report: Small Businesses and Employment [INFOGRAPHIC]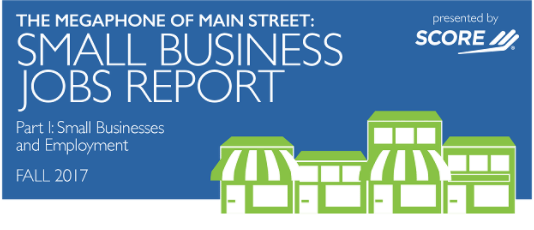 Did you know that Small businesses employ almost half of all workers in the United States and have been responsible for much of the economic recovery (through hiring) since the 2008 recession? This infographic from SCORE at these statistics and explores small business hiring challenges.
Interesting statistics include:
Hiring is Becoming More Challenging:
55.5% of small business owners said it was more difficult to fill their hiring needs in the past six months than it had been previously.
27.3% of small business owners surveyed said they had job openings in the past six months that they could not fill.
51.3% of business owners cited an inability to find qualified applicants as their greatest hiring challenge.
What specific issues are making hiring so difficult right now?
51.3% cannot find qualified applicants (skills/expertise)
26.2% need to raise salary/wages to be competitive
21.9% do not offer healthcare benefits
18.2% say it's too time-consuming to hire qualified workers
12.9% need to offer other benefits (apart from healthcare) to attract workers
8.9% said their candidates did not pass drug-testing requirements
6.6% said company location not desirable to candidates
Where did small business owners look for qualified workers?
19% of small business owners relied on personal referrals from workers.
17% relied on referrals from other business owners during the hiring process.
15% used job posting sites.
What are your thoughts on this infographic and what are your thoughts on hiring within your business? Let us know in the comments below.