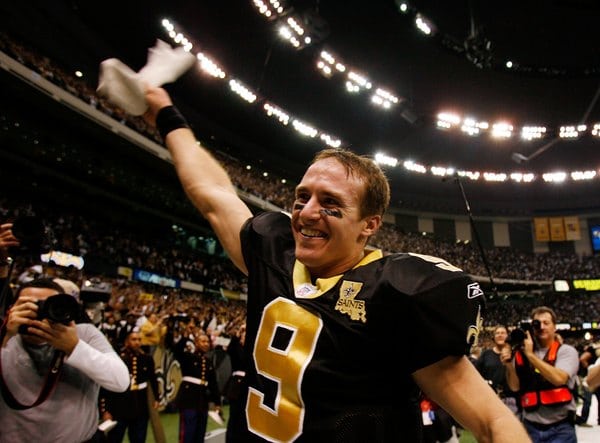 Drew Brees, the quarterback of the New Orleans Saints, recently captured a record for throwing a touchdown in 48 consecutive games breaking the record of Johnny Unitas. Last season, the Purdue alum set NFL records for most passing yards in a season (5,476), highest single-season completion percentage (71.2 percent) and most seasons with 5,000 yards passing (two — 2008 and 2011). In addition to his steller play,  Drew Brees is an entrepreneur and has done a major part in rebuilding New Orleans off the football field after Hurricane Katrina.
Teach a CEO developed a list of 9 things entrepreneurs can learn from #9-Drew Brees:
Maintain excellence: Although Brees name is often missing when speaking about the upper-echelon quarterbacks. He has consistently put up spectacular number.
Prove them wrong: Throughout his life, Brees has heard that while standing 6'0″ tall might be a good height for some as a quarterback he has a lot of room to grow. For everyone that passed on him or doubted him when he came back from shoulder surgery, the Austin Texas native has proved them wrong.
Speak up for what you believe in: Some argue that this season was lost before it started because of "Bounty Gate". While most people shy away from speaking publicly about the issue, Drew Brees is not one of them. Just as he was vocal during the lock-out, he's been vocal this off-season.
Give back: For those that have been successful, there has been someone that helped out. Be sure to return the favor. Drew Brees does it through is Foundation.
Work hard: Anyone that is a success, you will find out that they work extremely hard and Drew Brees is no different.
Persevere: Through doubts and soldier surgeries, life has been filled with hurdles. However, Brees still works hard and still succeeds.
Never be satisfied: "Lombardi says Brees' toughest critic is himself and that the Saints quarterback will never be satisfied with his progress.  'Every year he studies and works to improve himself,' says Lombardi. 'Every year he tightens up his fundamentals. Every year he just keeps filing away lessons into that mental file cabinet of his so he is prepared for even more situations.' "
Be passionate: At the end of the day through all the time and hard work, sometime passion will fuel you beyond what you even thought possible. Drew Brees is passionate about the game and it is evident when he steps on the field.
Just win: At the end of the day records only go so far, wins are all that matters and Drew Brees has done that.