Bookshelf
29 CEO Nuggets on Power, Diversity, Courage & More [CEO Bookshelf]
Week of February 17, 2019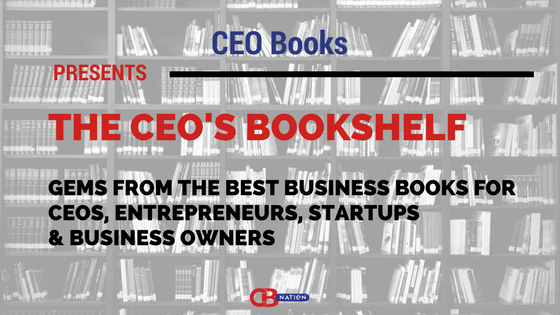 You've heard you are what you eat, well we believe that you are what you read. Teach a CEO presents lessons from our CEO Bookshelf on how you can improve and grow your venture. We have taken gems or nuggets from our library and provide them for CEO's, startups, entrepreneurs and business owners. Get your copy of these books and more at CEO Books.
New Power – 5 Nuggets
Micro Communities – 5 Nuggets
Courage – 7 Nuggets
You don't have to be an astronaut, CEO, or a Navy SEAL to have, harbor, or trigger courage. (Return on Courage)
In today's workplace, most of us are not compensated for courageous feats. Instead, we are rewarded for staying the course and remaining in the safe Zone. Going outside of that is a risk and could uproot your livelihood. And this, most likely won't affect just you. They are families at stake. The bigger the family the smaller than amount of risk you may be inclined to take in the workplace. This shows us just how broken our business culture is and how absent courage is from it. We do whatever we can to protect ourselves – low-cost – regardless of what's best for the business. (Return on Courage)
Courage is the act of doing even when there's resistance or fear. That nagging ball of inner tension is why it's so hard sometimes to take action. Staying frozen is your natural enemy. Being passive, doing nothing or remaining stagnant is the worst thing you can do (or not do). Avoiding paralysis is key. (Return on Courage)
Today, the pathway to Success is not just knowing your why. You have to put a rally cry in your why. (Return on Courage)
Most people wait for the code-red moment before they to react. Many hope it never comes and don't think about potential turmoil until it's too late. So it should come as no surprise that building your Central Courage System comes at a cost, which can be quantified as a 5-step process, easily summed up as P.R.I.C.E: Prioritize. Rally. Identify. Commit. Execute. (Return on Courage)
First, I need context to understand the audience, situation, and competitive set. Then comes your meaningful content that will resonate with your audience. Finally, you get it to relevant promoters – those contacts who help power your message out into the world–which simultaneously promote their personal brand to their followers.
Courage Brands create passionate believers. (Return on Courage)
Diversity at Work – 7 Nuggets
Ford's policy of hiring black professionals to oversee and enforce inclusive hiring practices showed amazing foresight. Not only was management more capable of finding and attracting workers of color, but they were also inherently more invested in the success of the program than in the success of their individual colleagues. A policy without enforcement infrastructure is destined for failure. (Let Them See You)
In short, greater diversity has a measured impact on employee retention, and they are actionable steps that executives can take to remove obstacles, reduce stereotyping, and create more inclusive workspaces. It's not just a nice thing to do – it'll save a company hundreds of thousands, or even millions, of dollars. (Let Them See You)
The first step toward adding values understand exactly what's expected of you and how those expectations influence business outcomes. (Let Them See You)
A brand can develop an image and voice that, over time and with consistent messaging, becomes wholly its own. By developing a personal brand, differentiate yourself from the billions of others clamoring for a piece of the world attention. And a brand that differentiates itself is a brand that wields influence. (Let Them See You)
Remember the spotlight effect. As a person of color, you'll receive extra attention and scrutiny just for being different. Everything you do in your professional – and sometimes your personal – life will have consequences for the way you are perceived. Being proactive about your personal brand will allow you to better direct that attention, but you'll need to be careful and how you craft your image. (Let Them See You)
Everything you do online influences how you and your brand are perceived. (Let Them See You)
Investing in a more diverse workforce within your company isn't just the right thing to do – it's smart business. (Let Them See You)
Fakeness – 5 Nuggets
Books on The CEO Bookshelf
Descriptions are from Amazon.com. Check out this edition at CEO Books.
The Courage to Go Forward: The Power of Micro Communities – The Courage to Go Forward shows that individuals need to think differently about creating supportive communities to help each other set and achieve goals, both individually and collectively. Those interested in making a positive impact on society need to consider how to complement societal programs designed for the "average" person with customized approaches tailored to the unique needs and aspirations of every individual. Focused on the inspirational relationship between Cigna, a global health service company, and Achilles International, a nonprofit focused on encouraging disabled people to participate in mainstream athletics, The Courage to Go Forward demonstrates the power and triumph of the human spirit and provides valuable insight into the formation and importance of micro-communities.
Savvy: Navigating Fake Companies, Fake Leaders and Fake News in the Post-Trust Era – We grew up believing that we could trust our friends, teachers, newspapers, social media feeds, corporations, and politicians. That's not the case anymore. We are living in the post-trust era. Misrepresentation, exaggerated truths, and outright fake news have become a world-wide phenomenon. Finding truth is like searching for a needle in a haystack and it is only getting harder. Savvy makes it easier. Savvy introduces seminal psychology studies and examples from today's political and business headlines to illuminate why we human beings are so vulnerable to putting our trust in people, organizations and information that is biased, or outright deceptive, and on the flip side, to doubting credible sources. In the post-trust era, so much is out of our control, yet we can inoculate ourselves. We introduce six human glitches that explain what makes us vulnerable to fakeness and provide recommendations for how we can avoid these human fallacies in the future. As we move to a future dominated by artificial intelligence, where cars drive us better than we drive ourselves and robots become our managers, whom we trust and how we build businesses, engage customers and motivate employees (real or artificially created ones) is going to be markedly different. Savvy provides guidance on how to avoid falling into the psychology traps of today while learning what we need to do to succeed in tomorrow's world.
Return on Courage: A Business Playbook for Courageous  Change – What do an astronaut, a Navy SEAL, the cofounder of method, the former VP of communications at Apple, and the president of Domino's all have in common? Ryan Berman spent three years shadowing the most courageous people and leaders on the planet to find out what they have done to accomplish liberating personal or business feats. Fifty-two percent of Fortune 500 companies from the year 2000 are now extinct, and 80 percent of all start-ups will fail within their first 18 months. Yet there's a lack of urgency to address this callous reality across the board in most organizations. And the solution can be unlocked with courage. Return on Courage (ROC) is the go-to courage instructional manual that helps readers attack and shrink business fears head-on. They will learn how to relentlessly play offense, drive change, and transform into a Courage Brand®. ROC can be the secret weapon to innovating new products and services, maximizing ROI, and revolutionizing their industry.
Let Them See You: The Guide for Leveraging Your Diversity at Work – The guide to getting hired, being promoted, and thriving professionally for the 40 million people of color in the workplace – from the CEO and cofounder of Jopwell, the leading career advancement platform for Black, Latinx, and Native American students and professionals.Let Them See You is a collection of Braswell's straight-talking advice and mentorship for diverse careerists, from college students to mid-level professionals. It's also an invitation for diversity champions to listen in on the guidance and perspective Braswell provides, particularly for young diverse workers – the population that will make up the majority of the US workforce by 2030. In Let Them See You, Braswell briefly chronicles how the majority-culture workplace evolved and why it's a business imperative to have a more diverse workforce.
New Powe

r: How Power Works in Our Hyperconnected World-and How to Make It Work for You

 – In this indispensable guide to navigating the twenty-first century, two visionary thinkers reveal the unexpected ways power is changing–and how "new power" is reshaping politics, business, and life. Why do some leap ahead while others fall behind in our chaotic, connected age? In New Power, Jeremy Heimans and Henry Timms confront the biggest stories of our time–the rise of mega-platforms like Facebook and Uber; the out-of-nowhere victories of Obama and Trump; the unexpected emergence of movements like #MeToo–and reveal what's really behind them: the rise of "new power." For most of human history, the rules of power were clear: power was something to be seized and then jealously guarded. This "old power" was out of reach for the vast majority of people. But our ubiquitous connectivity makes possible a different kind of power. "New power" is made by many. It is open, participatory, and peer-driven. It works like a current, not a currency–and it is most forceful when it surges. The battle between old and new power is determining who governs us, how we work, and even how we think and feel. New Power shines fresh light on the cultural phenomena of our day, from #BlackLivesMatter to the Ice Bucket Challenge to Airbnb, uncovering the new power forces that made them huge. Drawing on examples from business, activism, and pop culture, as well as the study of organizations like Lego, NASA, Reddit, and TED, Heimans and Timms explain how to build new power and channel it successfully. They also explore the dark side of these forces: the way ISIS has co-opted new power to monstrous ends, and the rise of the alt-right's "intensity machine." In an era increasingly shaped by new power, this groundbreaking audiobook offers us a new way to understand the world–and our role in it.