Bookshelf
37 CEO Nuggets Including Punk Rock, Scaling, Human Capital & More [CEO Bookshelf]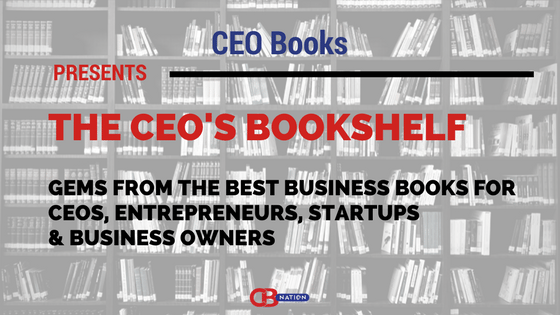 You've heard you are what you eat, well we believe that you are what you read. Teach a CEO presents lessons from our bookshelf on how you can improve and grow your venture. We have taken gems or nuggets from our library and provide them for CEO's, startups, entrepreneurs and business owners.
Punk Rock Attitude in Business – 7 CEO Nuggets
Human Capital – 6 CEO Nuggets
Scaling – 13 CEO Nuggets
Value Conscious Negotiating – 6 CEO Nuggets
Affirmation for Millenials – 5 CEO Nuggets
Books on The CEO Bookshelf
Descriptions are from Amazon.com
The Punk Rock of Business: Applying a Punk Rock Attitude in the Modern Business Era – Author Jeremy Dale believes that too many businesses create an environment that encourages mediocrity and corporate norms that deliver lukewarm results at best. In The Punk Rock of Business, Dale offers a road map away from average and towards innovation through a mindset rooted in punk rock principles. In this fast-paced, actionable guidebook, readers will find: Eight punk rock principles to help you redefine your place in the corporate world–for the better, A set of characteristics to strive for that will liberate you and accelerate your success, Countless examples—drawing on both the classic stories from the music genre's industry-changing legacy and Dale's years of business success—to illustrate these principles and characteristics in action, Straightforward lessons and actions to start taking today—right now—to break through corporate norms and build something greater. Punk rockers had a cause. They aimed for authenticity and refused to conform. In doing so, they created a dramatic change that shook society to its core. It was a much-needed wake-up call for the conservative part of the music industry. Jeremy Dale wants you to do the same in the business world, and in The Punk Rock of Business, he gives you the tools you need to accomplish that goal.
Power People: An Entrepreneur's Guide to Managing Human Capital – Looking for an all-in-one solution to maximizing results from your company's employees? Look no further than People Power! Employees can make or break a business—yet many companies have no idea how to manage their incredibly valuable "human capital." Now, for the first time, HR expert Scholley Bubenik, President of Premier HR Solutions, unlocks the secrets she's learned over her thirty years of human resources experience in People Power. Detailing her time-tested, practical and proven strategies, Bubenik gives you the tools you need to assemble—and keep in place—the kind of team that will take your business to the top. Whether you're an entrepreneur, business owner or manager, these innovative insights and nuts-and-bolts advice will help you get the most out of your employees while helping them achieve true job satisfaction. Maximizing employee engagement means you'll need to do more than simply abide by state and federal regulations and file the right paperwork at the right time—you need to develop a plan that aligns your company's business goals and culture with your people's. The key to this is Bubenik's "Five Strategies"—a set of principles which, when implemented together, provide a comprehensive approach to the process of recruiting, training and retaining. In addition, People Power also includes interactive exercises that help you customize the book's content to your own specific business situation—allowing you to take instant advantage of Bubenik's hard-won HR knowledge.
Scaling Leadership: Building Organizational Capability and Capacity to Create Outcomes that Matter Most – How do senior leaders, in their own words, describe the most effective leaders—the ones that get results, grow the business, enhance the culture and leave in their wake a trail of other really effective leaders? Conversely, how do senior leaders describe the kind of leader that undercuts the organization's capacity and capability to create its future? This book, based on groundbreaking research, shows how senior leaders describe and develop leadership that works, that does not, that scales, and that limits scale. Is your leadership built for scale as you advance in today's volatile, uncertain, dynamic, and disruptive business environment? This context puts a premium on a very particular kind of leadership—High-Creative leadership capable of rapidly growing the organization while simultaneously transforming it into more agile, innovative, adaptive and engaging workplace. The research presented in this book suggests that senior leaders can describe the High-Creative leadership with surprising clarity. They also describe with equal precision the High-Reactive leadership that cancels itself out and seriously limits scale. Which type of leader are you? You scale your leadership by increasing the multiple on your leadership in three ways. First, by developing the strengths that differentiate the most effective leaders from the strengths deployed by the most Reactive and ineffective leaders. And second, by increasing your leadership ratio—the ratio of most the effective strengths to the most damaging liabilities. Third, by developing High-Creative leaders all around you. Scaling Leadership provides a proven framework for magnifying agile and scalable leadership in your organization. Scalable leadership drives forward-momentum by multiplying high-achieving leaders at scale so that growth, productivity and innovation increase exponentially. Creative leaders multiply their strengths beyond technical competence by leading in deep relationship, with radical humanity, passion and integrity.
Scale or Fail: How to Build Your Dream Team, Explode Your Growth, and Let Your Business Soar – Scaling a business is not for the faint of heart. It's a mind-bending journey that causes millions of business owners around the globe to either throw in the towel—or avoid risk entirely and suffer from smallness and mediocrity. Most of these businesses fail because they are ill prepared to face the real challenges involved in scaling. Either they don't have the bandwidth to keep up with the sales demand or production, miss out on major opportunities due to fear, or keep making the same mistakes over and over because systems and processes aren't in sync with the rate of growth. To truly scale, you must upsize your strategic practices, implement new marketing strategies, find new ways to build your team, and expand your mindset to break through whatever is keeping you stuck at the same level. Then you must be willing to take the leap into the giant unknown – to make your impossible possible. In Scale or Fail, author Allison Maslan—who has successfully scaled ten companies from scratch and has guided thousands of small businesses to do the same—shares her revolutionary SCALEit Method ® for successfully growing, replicating, and expanding your business. She also shares pivotal mindset strategies she's used to break the fear barrier as a trapeze artist so you can move past any obstacle, take strategic Big Picture risks, and fulfill your dreams of business expansion and skyrocketing profit.
On Your Terms: Discovering a More Joyful and Purpose-Filled Life Through Value Conscious Negotiating – Finally, there is a working manual that explores the three essential ingredients of success. On Your Terms gently guides you in three steps: (1) More fully claiming your personal value (2) Identifying the success you want to create (3) Empowering yourself to effectively negotiate those outcomes. Resourcing his own personal wealth of experiences – in business and in life – Nick Segal presents an entertaining and self-revealing exploration of his personal success adventure that will inspire anyone willing to do the work to more fully realize their own heartfelt dreams of success. Segal's approach is a simple and proven methodology: a "paint by numbers" series of action steps designed to enhance personal confidence and develop practical new skills for creating happiness and success. His personable, encouraging, and often humorous style will naturally lift you into the realization that success is not only possible, but very much attainable. And attainable on your terms.
Keep It 100 – This book will moisturize your ashy elbow, negate your unpaid parking tickets, and defend your hairline against all threats – foreign and domestic. That's a lie, but you knew that. You also know that life can feel like a cruel joke, particularly on Mondays. This book was written to help you persevere, laugh, and excel despite whatever storms life might throw your way. This book is the result of a Google Doc and a dream.