Bookshelf
32 Tips on Networking, Culture, The Gig Economy & More [CEO Bookshelf]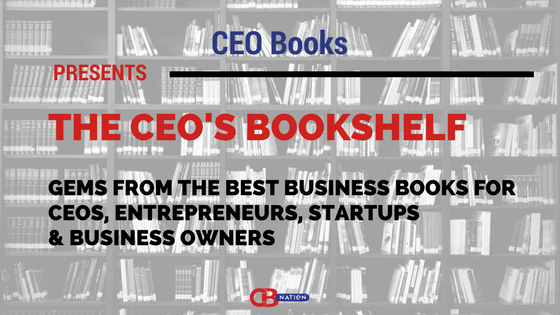 You've heard you are what you eat, well we believe that you are what you read. Teach a CEO presents lessons from our bookshelf on how you can improve and grow your venture. We have taken gems or nuggets from our library and provide them for CEO's, startups, entrepreneurs and business owners.
Networking & Superconnecting
Instead of asking, "How do I solve this business challenge?" A Superconnnector thinks, "Who do I know who can help me solve this business challenge or directly connect me with the right people?" Superconnector knows how to use Social Capital to solve business challenges with the same ease that a sommelier knows which wine to order with your steamed lobster. (Superconnector)
Superconnectors are selective in everything they do: the time they manage, the company they keep, the people they put around them. It doesn't mean you are a snob and that you think you are better than everyone else. It just means you're cognizant of your time. We are all busy; we're all trying to manage our time effectively. While you could give your time to 50 people you most likely make less of an impact than if you focus your energy on five people especially five people become your zealots and take your mission to another five people and so on and so forth. Superconnectors are some of the most focused people we know. They home their actions keenly. (Superconnector)
In effect, Superconnectors are trying to solve a series of puzzles or help someone reach the end of a maze. As we have discussed, Superconnectors ask questions and talk with purpose in order to uncover context and value that can help the person they're speaking with to–knowing that the person they're speaking to is not necessarily clear about what they need or what would best help them. (Superconnector)
Being a superconnector is a wonderful way to live that will connect you to people and opportunities that you never imagined. But it will never be more rewarding or impactful than the relationships right in front of you. It will never take the place of the people who love you for you, whether you're a Superconnector or not. We believe the best Superconnectors, the ones who truly succeed, invest in and embrace the relationships that already matter in their lives: families, friends, colleagues, neighbors. The health of those relationships is a more important measure of success than anything you could take away from the chapters in this book. Because it's only through those relationships that you will truly be able to enjoy the profit that comes from being a great connector. (Superconnector)
Some of the world's biggest deals and careers have been built on nothing more than smart asks and inbound referrals. These are the two biggest tools a connector has in their arsenal these are the simple yet effective ways connectors received value. They are the meat and potatoes. (Superconnector)
Once you establish the kind of community around you, often want to build even deeper relationships by building more structure in your community in the form of a group, event, or forum. The best connectors take their informal networks and turn them into formalize community one of three mechanisms: groups, events, online communication channels such as forums and newsletters. (Superconnector)
---
Authority Positioning
---
Iconic Advantage
---
Gig Economy
Yet there is still some understandable confusion about what the gig economy is. This is because the gig economy is very diverse: it can include temporary workers, workers comp, freelance CEOs, ask freelance workers, entrepreneurs and solopreneurs. The gig economy is an amazing force that normalizes all types of project in temporary work and changes the concept of the workplace for everyone in and out of it. (The Gig Is Up)
By the year 2020 it is estimated that 50% of the US Workforce will be working independently. (The Gig Is Up)
The bottom line is that if you can clearly communicate your difference in there will be some sort of impression formed in the person in the mind of the person doing the choosing. (The Gig Is Up)
The bottom line is that if you can clearly communicate your difference, there will be some sort of impression formed in the mind of the person doing the choosing. If you can't communicate a distinct difference, something worse happens: There's no impression formed. You're ignored; you're an afterthought. Other words: When she ate or die. (The Gig Is Up)
Don't shy away from promoting yourself, bonus means more people are going to notice you, and you never know how long it would take to get the ball rolling. (The Gig Is Up)
Rather than doing free work, sitter offering a discounted rate for first-time clients or a percentage off for prepayment of a block of hours. This offers the same benefits that you might hope to get from spec work, shores you were still copy for the time you put in. (The Gig Is Up)
Q: Do you think is the biggest reason people fail in the gig economy? A: The same reason so many businesses fail. You are not really providing the benefit You Think You Are, are not clear enough in the benefit you provide, are not bully stating that benefit to those doing the choosing, or are not getting the attention of enough people that pay for what you offer. (The Gig Is Up)
---
Creating Culture
---
CEO Books
Superconnector: Stop Networking and Start Building Business Relationships that Matter: Abandon the networking-for-networking's-sake mentality in favor of a more powerful and effective approach to creating and enhancing connections. Stop networking. Seriously, stop doing it. Now. It is time to ditch the old networking-for networking's-sake mentality in favor of a more powerful and effective approach to creating and enhancing connections. In Superconnector, Scott Gerber and Ryan Paugh reveal a new category of professionals born out of the social media era: highly valuable community-builders who make things happen through their keen understanding and utilization of social capital. Superconnectors understand the power of relationship-building, problem-solve by connecting the dots at high levels, and purposefully cause different worlds and communities to interact with the intention of creating mutual value. How can you become a Superconnector? Gerber and Paugh share instructive anecdotes from a who's who roster of high achievers, revealing how to systematically manage a professional community and maximize its value. Of utmost importance is practicing Habitual Generosity, acting on the knowledge that your greatest returns come when you least expect them, and that by putting others' needs first the good karma will flow back to you tenfold. Gerber and Paugh also explore winning strategies such as The Art of Selectivity, a well-honed ability to define which relationships matter most for you and decide how you will maintain them over time. Full of helpful advice on how to communicate with anyone about anything, Google-proof your reputation, and much more, Superconnector is a must-hear for those seeking personal and business success.
Lead the Field: How to Become an Authority and Dominate Your Competition: How important is it to be the go-to person and business in your field? As the leader in your industry, community, or marketplace you can position yourself and your business as the undisputed expert, influential authority, and in-demand celebrity that everyone wants to work with. This authority position moves you to new heights and makes marketing, selling, and building trust with customers dramatically easier and quicker than ever before. Inside, you will learn: What Authority Marketing actually is, Four reasons Authority Marketing makes growing a business much easier, The pillars of Authority Marketing, Examples of Authority Marketing in business today, and How to implement Authority Marketing into your business for gain, fame, and fortune.
Iconic Advantage: Don't Chase the New, Innovate the Old: Modern business gurus all cry for the need to innovate, to disrupt, and to act like a startup. It's hard to argue with that kind of thinking. It's sexy and exciting. But it's wrong. Too many businesses become enamored by shiny new objects and end up overlooking the value locked away in their existing products. Maybe your business is one of them. Iconic Advantage is a different approach that allows companies to leverage what they already have to create lasting differentiation and deeper relationships with their customers. It generates disproportionate levels of profit and protects against market fluctuations. Many of the world's most successful brands have been using it for years. Now, you, too, can benefit from reaching iconic status, whether you're a Fortune 500, a local pizza parlor, or an aspiring unicorn startup.
The Gig Is Up: Thrive in the Gig Economy, Where Old Jobs Are Obsolete and Freelancing Is the Future: Win in a world of increasing choice by becoming the clear, unique fit. The gig economy is made up of project-based, or on-demand services, that can be provided by anyone. The common denominator in the gig economy is technology, so our modern online-lives provide the perfect marketplace for the ever-diversifying opportunities in the gig economy. By some estimates, 2020 will see half of all workers involved in the gig economy. Are we ready for this seismic shift in our work lives? Freelancers need to clearly answer "Why choose you?" so that they stand out in the new economy.  Because all workers in the gig economy need to bluntly pose this question to themselves, The Gig Is Up is designed to answer this one key point head-on, giving readers innovative tools like Unique Value Proposition to confidently step up. The Gig Is Up offers the best boots-on-the-ground methods for success, by evolving the reader's perspective and process. Many books on the gig economy focus on letting people live out their dreams, instead of looking at the realities of what it truly takes to win in a world of increasing choice. People need to understand how to compete and how to put the best version of themselves up front and center. The goal in competing today is to not only be chosen, but to move toward becoming the only choice, over and over again.
Lead Your Tribe, Love Your Work: An Entrepreneur's Guide to Creating a Culture that Matters: In Lead Your Tribe, Love Your Work, Piyush Patel offers an insider's perspective on how to unify your team around a common purpose by uncovering your core values and transforming your culture. With over 20 years of entrepreneurial experience, Piyush has discovered that–while leaders can provide opportunities–real culture comes from the heart. Using real-life examples and practical takeaways, Lead Your Tribe, Love Your Work is the ultimate guide to creating a tribe to lead and a workplace you love. Piyush challenges readers to rethink their current paths, unveiling: *The business-owner wake-up call: How to tell when your company culture is failing and what to do to fix it; *The key to employee retention is BAM–Belonging, Affirmation, and Meaning; *Secrets to successful onboarding: How to make new employees feel like they already belong; *Constructive "uncomfortable" conversations: Tips for getting positive results from conflict; *Four questions to ask your employees to get a pulse on your company's culture; *When successful businesses happen to poor leaders: Identify negative initiatives and reshape your company before it's too late; *How to spot the difference between 'real' and 'faux' culture: Why a company with perks can still be toxic. As a business owner or leader, Lead Your Tribe, Love Your Work will challenge you to take control of your culture and create a thriving company that's built for longevity.