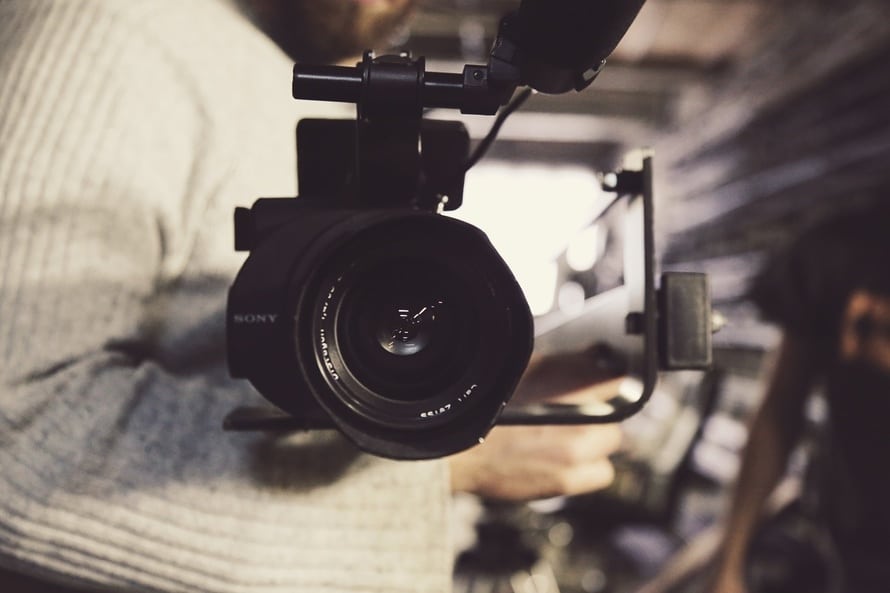 A panoramic photo of something like the Grand Canyon at sunset can be breathtaking, but it's nothing like being there. But with 360-degree video, we come a lot closer. We can see from every angle as if we were actually wandering around there. But 360-video is much more than a source of entertainment. It can show enlightening perspectives and levels of interaction you don't get with traditional video. This perfect for business in many areas, but particularly in corporate training.
How 360-degree Videos are Made
This is the same approach as traditional video, except that surroundings are recorded through omnidirectional or multiple cameras so that the images can be merged into a complete view of all directions. Often this is done with six separate cameras simultaneously capturing 170-degree angles horizontally and 180 degrees vertically. The cameras are fixed at different angles and record at the same settings. This creates a completed video allowing the user to view in any direction without any interruption of the surrounding scene.
It's almost like a virtual reality, except that you don't need a headset – but you can see everything, any which way you want to turn. The viewer can watch on a laptop, VR goggles, smartphone, or any computing device by using a mouse click or swipe of the finger to change direction.
360 Degree Videos and Corporate Training Companies
When coupled with other digital benefits, such as image zoom and object clicks for additional info, the immersive experience which these videos provide is becoming a valuable tool in any training program (whether created in-house or by an instructional design company). 360-degree video creates a more engaging learning experience but at a lower investment.
* In healthcare, doctors and nurses can study treatments and procedures from any angle while listening to narrative explanations.
* Engineers, security, and law enforcement trainees can study strategies in a real-world sense that was not possible previously, with the opportunity to see how people, structures, and surroundings are affected.
* Physically demanding roles can use 360-degree videos of themselves to improve performance through reviewing and seeking to perfect motions and stances through more controlled and stable movement.
* Immersive video lets trainees fully explore procedures, equipment, and surroundings they'll be working with, without the need for occupying actual space and resources in the work environment, or even a human instructor.
* New hire training can benefit from 360-degree videos as a virtual tour which familiarizes them with floorplans and important resources – again, without taking up the time of a human guide.
* More effective documentation for assessment, reporting, and other information capture.
The possibilities as a training aid are practically limitless. Not just processes, surroundings, and knowledge can be improved, but also better awareness of safety, health, security issues, and even communications and behaviors that make for a better work environment.
Some of the benefits of 360-degree video in training:
* Gives users a sense of physical presence
* Can be used to re-create learning situations
* More interactive and engaging than traditional video.
* Live video conferencing in 360-degree formats is also possible to allow remote training sessions or meetings with colleagues or trainers.
* Students can focus attention on what most concerns them.
* Immersive experiences allow for quicker learning and greater retention of knowledge.
* Allows for a safer and more cost-effective approach to hands-on learning that leads to a deeper understanding of the program content.
There are some skeptics in the overall returns on how 360 degree videos are making their way into corporate training. For example, the cost of the equipment is more expensive than traditional video capture, and the user's interaction with the video, if left unguided, can lead to wasted time or neglected study goals that lengthen training time. Also, the greater size of 360-degree video files requires more bandwidth that may slow down streaming time over Internet connections.
While there are advantages and disadvantages to every technology and how it's used, the fact that 360-degree video presents a virtual-reality approach to training makes it useful across all industries and job roles. A better, more convenient, and more immersive learning experience is likely to outweigh any drawbacks when it comes to more effective training, since better training creates better employees.
—
Lance Noland writes the business and leadership spaces, and is especially curious about eLearning and gamification. He grew up just outside of Juneau, Alaska where he developed a love for photography, nature and writing.