Bookshelf
14 Business Tips & Lessons from the Entrepreneur's Bookshelf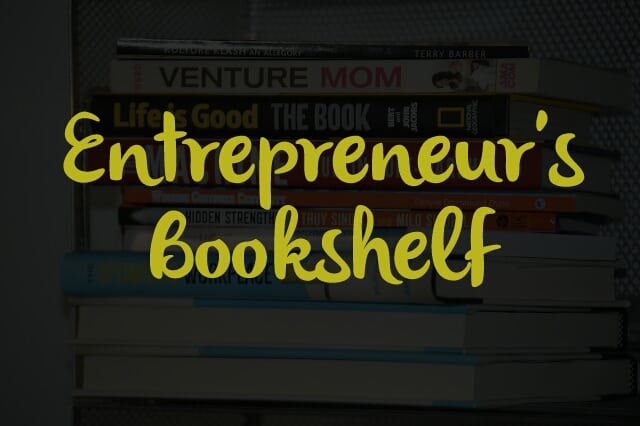 You've heard you are what you eat, well we believe that you are what you read. Teach a CEO presents lessons from our bookshelf on how you can improve and grow your venture. We have taken nuggets from our library and provide them for entrepreneurs and business owners.
Learning to incorporate the next generation into every aspect of your business from top to bottom is critical to long-term success, particularly in today's rapidly shifting and technology fueled landscape. (WE-Commerce)
Becoming magnetic is a way of thinking about your business so that the work you do, the products you make, and the service you deliver to your customers are no longer separate from your marketing. They are your marketing. (Magnetic)
Mobile technology is here to stay, along with all the wonders it brings. Yet it is time for us to consider how it may get in the way of other things we hold dear–and how once we recognize this, we can take action: We can both redesign technology and change how we bring it into our lives. (Reclaiming Conversation)
The single most important factor in the future success of your business is this: what your customers tell people about their experience with you. What this means to you is that creating positive experiences for your customers is the singe most important thing that you can do to grow your business. (Magnetic)
One of the best aspects of international business is the opportunity to visit exotic places. (Stories From The Middle Sea)
Successful business artists today understand that companies have to evolve from providers of product into producers of content. (WE-Commerce)
Success in business requires research, discover, and a degree of creativity in finding out everything from your purpose and values to what kind of people you want to hire to what you want your customers to say about you to the three things you must get right. It's your business. You have to make it work. (Magnetic)
Conversation is on the path toward the experience of intimacy, community, and communion. Reclaiming conversation is a step toward reclaiming our most fundamental human values. (Reclaiming Conversation)
In today's collaborative business landscape, the DIY and makers movement has expanded beyond the thrill of doing something yourself to encompass the jubilant experience of doing things together. (WE-Commerce)
There is another way to think about conversation, one that is less about information and more about creating a space to be explored. You are interested in hearing about how another person approaches things–his or her opinions about associations. (Reclaiming Conversation)
And the media is becoming participatory in ways that most denizens of industrial-age mass media are never going to truly understand… The good news is that we get to reinvent the way we communicate with one another in a way that we haven't been able to in 180 years. The bead news is there's going to be a lot of chaos until we get there. (WE-Commerce)
We all attend meetings during which we multitask and our minds are elsewhere. It turns out to be a stressful elsewhere. The multitasking life puts us into a state similar to vigilance, one of continual alert. (Reclaiming Conversation)
Disruption is not just a crisis response anymore. (WE-Commerce)
In a world that doesn't just change quickly, but continuously, the greatest threat to your marketplace viability may very well be irrelevance. (Magnetic)
Books from the Bookshelf
In WE-Commerce, visionary marketing strategist Billee Howard lays out her plan for a new vision of success and long-term, purposeful profitability in the new global, sharing economy. Today, the most successful businesses and entrepreneurs thrive through connectivity, socialization, and sharing. It is an age of WE-Commerce, an economy centered on the power of "we" instead of "me," focused on the needs of the many over the few. Booming companies such as Uber and Airbnb leverage technology to create platforms that rely largely on social media and community feedback to facilitate people's ability to collaborate with one another. Instead of traditional business strategies, companies must now inspire belief and trust in their communities; collaborate with their customers; create business models that are socially and environmentally responsible; find opportunities for creative collaboration with large, global markets; and become a new generation of innovators—"artists of business."
Stories From The Middle Seat: The four-million-mile journey to building a billion dollar international business – How do you build a multi-billion dollar international business?And then how do you save one when it seems like all the cards are stacked against you? Sharing letters he sent to his father during his years of traveling the world building—and then saving—a multi-billion dollar company, Bob Hemphill's Stories from the Middle Seat recounts the funny, unique, and sometimes out­landish parts of international business. From a time of significant prosperity to a period of domestic and international finan­cial hardship, we have Bob's insider views on what it takes to be successful, or at least to survive. We go from goose blinds in Virginia to Incan ruins in Peru, from the islands of the Caribbean to those of Greece, from Riyadh in Saudi Arabia to an Israeli kibbutz. Hemphill details the interactions with professional colleagues and with family, deals with the ups and downs of business, and responds with his inimitable wit and wisdom to it all.
Magnetic: The Art of Attracting Business is a look at how consistently successful businesses are able to attract a steady and ever-increasing flow of customers. This innovative text examines a range of simple, powerful strategies that businesses of any size or type can use to attract new customers. The key is to do those things that harness the power of the single most important factor in buying decisions: positive word of mouth and referrals from happy existing customers. Magnetic businesses are intentional, strategic, and focused on creating positive experiences that become the stories their customers tell about them. Whether on the internet or face to face, it's what satisfied customers say about you that is the most powerful driver of growth for your business.