Bookshelf
Tips from the Entrepreneur's Bookshelf for Entrepreneurs, Startups & Business Owners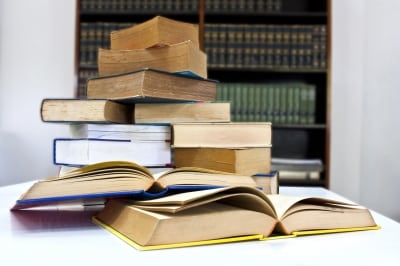 You've heard you are what you eat, well we believe that you are what you read. We receive hundreds of books to read to help out entrepreneurs and business owners but more than just offering a chance to hear about a book we believe we want you to walk away with some wisdom just like we did from reading these books.
Teach a CEO presents lessons from the Entrepreneur's Bookshelf on how you can improve and grow your business venture. We have taken some nuggets from our library and provide them for entrepreneurs and business owners and to help your ventures.
Focus gives us a sharpness of vision, which increases our understanding. We need that increase so that we can create a legacy that will endure the chaos of our busy life. (Leading with Your Legacy in Mind)
The most difficult thing to do to improve performance after pinpointing the business case (results) is to identify the basic behaviors driving the desired result. This task is considerably more difficult than most people might think, yet it constitutes the most important skill that you will need as a manager, supervisor or anyone trying to fix performance problems. (Performance Management)
Transparency prompts terrific performance. If you show employees the relationship between their actions and their own pay, as well as how those actions correlate to the overall performance of the company, they will be able to make better decisions. (Finding Happiness)
A common mistake entrepreneurs make when starting a business is to save money by setting up their accounting system themselves, using widely available accounting programs like Quickbooks without professional guidance.  (A Crash Course in Business Finance Basics)
It is up to us as executives and leaders to forge organizations that are steeped in trust and fortified by our commitment to create a workplace that enables people to get along and prosper. (The Executive Checklist)
Managers, parents, or others who rely on punishment and penalty may never realize how they are robbing themselves of the pleasure of being a positive force in others' lives. (Performance Management)
By creating the habit of rejecting negative emotions and thoughts, and focusing only on positive emotions and thoughts, you will see positive transformation in your life. (Think and Grow Rich for Women)
One of the constant realities of life as an entrepreneur is the tension between keeping money in the business and bringing it home. As much as we would like to pretend that business exists in a vacuum and all the income it generates is available for marketing, staff, computers, software, services, and so on, that's not reality. The time and effort you're investing in building the business would otherwise be used to build someone else's business in the form of a J-O-B, and we know for all their downfalls, J-O-Bs at least bring home the bacon. So must your business. (The Financially Savvy Entrepreneur)
Say thanks. Expressing gratitude isn't expensive and it isn't time consuming–but its impact can be tremendous. (Finding Happiness)
It is vitally important that the Financing section of you business plan goes well beyond basic spreadsheets of sales revenue projections and corresponding expense targets….. The key to a really effective Financing section is a well-defined and comprehensive funding plan that considers and anticipates all appropriate contingencies. (A Crash Course in Business Finance Basics)
To increase trust, you don't have to go on a wilderness exercise or attend a seminar; you only have to do what you say you are going to do. (Performance Management)
When documenting business principles, it is essential that the rationale and implications for each one is provided. A principle's rationale is the "reason" why it is important that it be used within the enterprise, while its implications are the "price" an organization is willing to pay in order to realize its benefits. (The Executive Checklist)
The fact that 80% of our thoughts are negative is startling to say the least! Compound that with our ability to be empathetic, which means other people's negative thoughts become contagious and can add to our own negative thoughts! (Think and Grow Rich for Women)
Ironically, the more we follow our passion, the more uncontrollable these emotions become. When you think about it, we really don't have to try very hard to feel our passions. We actually feel and follow them quite naturally. (Leading with Your Legacy in Mind)
When you see yourself as a giver, you'll feel better and better about who you are as a person. (Finding Happiness)
Business renovation, the act of continuously improving on what you do as an enterprise, is a fundamental factor in becoming "of Choice." Like a world-class athlete working on fundamentals, organizations must be constantly refining and improving. (The Executive Checklist)
Even before you start seriously thinking about seeking a line of credit for your business for the first time, there are several things you can do to help make the application process ( or any application process for that matter) lead to success. One way to accomplish this is to build credit early on. (A Crash Course in Business Finance Basics)
Businesses start off like babies: cute and cuddly. You'd do anything for them. You move heaven and earth to see them thrive. But at some point a business, like a baby, can become a slovenly teenager vegging on your couch eating Doritos and watching MTV all day. Your business and your teenager need boundaries. To help your business grow to adulthood, you want to slowly but surely cut the financial ties. (The Financially Savvy Entrepreneur)
Please recognize this simple truth: your organization will not force you to develop yourself. It is paying you to perform, and your performance is what is going to manage. It has an interest in helping you become your best, but it is naturally, and rightfully, focused on making a profit. (Leading with Your Legacy in Mind)
Cash flow management is a critical key to survival and success, particularly with a new business. The nature of each business is unique, but every business aims to maximize revenue and minimize expenses. It's an ongoing process. (A Crash Course in Business Finance Basics)
The fear of criticism is one of the greatest fears holding women back. We tend to view ourselves through the eyes of others, instead of feeling confident in our own skin. ((Think and Grow Rich for Women)
There is no debate: we must work. But how we work and what we work at is entirely dependent upon our choices and decisions. Our work sustains us and amplifies the fulfillment that we experience. (Leading with Your Legacy in Mind)
Going into any new business without an exit plan is a dangerous proposition, but fortunately the solution is very simple. A well thought-out, written exit plan will, as we said in law school, CYA, or cover your analysis. (The Financially Savvy Entrepreneur)
If intended reinforces are frequently followed by a negative comment, then attempts at reinforcement eventually become an antecedent for punishment. (Performance Management)
It is also important to remember that great planning becomes worthless without taking effective an timely action. It's always necessary to balance planning and action. Failure to execute on either one can lead to a very poor or negative outcome. (A Crash Course in Business Finance Basics)
Happiness is the daily act of choosing to accept and love yourself as you are and for who you are. (Finding Happiness)
Leading with our legacy in mind calls us from success and into significance. It is not enough just to do something; we must create a force field of energy that will survive the end of our employment contract. The results of our work, the titles we hold, and the recognition we receive can never compare to what we learn and how we use what we learn to make things around us better. (Leading with Your Legacy in Mind)
We each have the ability to consciously change our circumstances by intentionally concentration on positive actions and thoughts, which in turn influences our subconscious mind to follow suit. This happens by focusing on achieving positive outcomes in our life, both what we WANT to receive, as well as what we are willing to give in exchange for receiving it. (Think and Grow Rich for Women)
As we journey on the arc from passion to purpose, we discover who we really are and why we do what we do. That is the foundation of our legacy. When we let purpose guide us, we are able to discern the growth that is needed if we are to accomplish work. (Leading with Your Legacy in Mind)
The bottom line is, toxic relationships can grow in all areas of your life, and they won't eradicate themselves, either–you've got to take the initiative to identify them and weed them out of your life, just as you must purposefully spend more time with positive, happy people. (Finding Happiness)
Books from the Library
Excerpts from Amazon.com
The Financially Savvy Entrepreneur – 80 percent of small businesses do not receive outside funding; they bootstrap (and beg and borrow) to make their business dreams a reality. As these businesses grow, the hasty financial decisions and systems put in place during their infancy inevitably crumble. Banishing CPA-speak, The Financially Savvy Entrepreneur offers time-strapped entrepreneurs–indeed, all business owners–simple and innovative tools to maintain business and personal financial health. Here's an understandable, step-by-step plan that will help you: Understand how an entrepreneur's financial considerations differ from their traditionally employed counterparts, Appreciate the danger of failing to revisit start-up decisions and give you a roadmap to ease financial entanglements, and Establish a business that can stand on its own financially.
Leading with Your Legacy in Mind – This is an indispensable guide for leaders who want to leave a lasting legacy on their organization by leaving a positive culture that benefits all. Leading business coach Dr. Andrew Thorn's work unfolds an entirely new perspective on legacy and invites the reader to shift his or her thinking from goals to aspirations, from balance to focus, from results to commitments, from achieving to becoming, and from outcomes to actions. Including the instructive and inspiring stories of leaders working on legacy issues while improving their organizations, this book contains transformative action steps and prescriptive exercises that will improve your company and your life.
Think and Grow Rich for Women – Women are the future of American business. According to a recent Nielsen report, women will control two-thirds of American consumer wealth in less than a decade. And yet almost all business and success literature is still written for men—dispensing advice that doesn't take into account women's unique strengths or address the demands of family life on mothers. Think and Grow Rich for Women is a powerful new book—from the award-winning author of Think and Grow Rich: Three Feet from Gold and coauthor of the multimillion-selling Rich Dad, Poor Dad. It combines Hill's classic Thirteen Steps to Success with case studies of noteworthy women (including Sandra Day O'Connor, Maya Angelou, Katie Couric, Caroline Kennedy, Madonna, Oprah Winfrey, Margaret Thatcher, Condoleeza Rice, J. K. Rowling, Barbara De Angelis, Marianne Williamson  Angela Merkel, Mary Kay Ash, IBM CEO Ginni Rometty and many more), outlining a master plan for success for all women.
Business Finance Basics: Learn What You Need in 2 Hours (A Crash Course for Entrepreneurs) – Between 40 and 70 percent of start-up businesses fail in their first four years, mostly because of money problems. Even growth can kill you! Unlike many other business finance books, this one shows you how to recognize if you need outside help– getting funding, planning cash flow, growing a business, controlling costs, avoiding pitfalls, running day-to-day finances, using accountants and software tools, and more. But it also sets you up to successfully do the things you can do yourself. Each of the books in the Crash Course for Entrepreneurs series offers a high-level overview of the critical things you need to know and do if you want to survive and thrive in our super-competitive world. Of course, there's much more to learn about each topic, but what you'll read here will give you the framework for learning the rest.
Finding Happiness – We all know appearances can be deceiving. And never is this adage more relevant than when it s applied to happiness. For instance, you d probably imagine that anyone with financial success, a loving family, and a respected position in the community would be the very picture of contentment. But you d be wrong just ask Todd Patkin. His book, Finding Happiness: One Man s Quest to Beat Depression and Anxiety and Finally Let the Sunshine In, explores the painful emotions that often lie just beneath the surface of a perfect life. From a childhood riddled with insecurity and perfectionism to an adulthood marked by the exhaustive need to always excel and achieve more to a devastating breakdown at the age of thirty-six, Patkin chronicles his own very difficult but ultimately successful journey toward cracking the happiness code. In the end, Patkin has discovered that happiness isn't a job or a bank account or a car or even a group of people. Happiness is the daily act of choosing to accept and love yourself as you are and for who you are.
The Executive Checklist – Today's economy is rapidly shifting and extremely complex. As we enter this new commercial age, a global restructuring of the business world is underway. Executives must respond to this change by re-imagining their organizations' structures, enhancing product and service offerings, and leveraging emerging technological capabilities in order to keep their organizations vital for years to come. Written for executives and those aspiring to become one, this book serves as a primer for how to set direction and manage change within the 21st century enterprise. Organized into easily accessible checklists, each chapter demystifies a key aspect of today's leadership challenge and outlines the steps necessary to revitalize today's businesses. The 'See It In Action' sidebars provide real world examples of how these concepts are already being implemented in businesses today, featuring companies such as CIGNA HealthCare, Forbes Insights, Virgin Records, DreamWorks Animation, Google, Molex, and Marriott International. Together, these chapter checklists encompass a guide that can be used to institute an overarching, enterprise-wide transformation program and make today's ultra-complex business world a little easier to manage.
Performance Management: Changing Behavior that Drives Organizational Performance –With more than 500,000 copies in print, Performance Management: Changing Behavior that Drives Organizational Effectiveness is the definitive text for explaining the science of behavior and presenting proven research and business and industry examples for applying its principles at work, including: How to transform and/or create a positive culture (including a safety culture) What leaders need to do more of How to spark innovation How to manage multigenerational workforces Now in its 5th Edition, this decisive text is both a desktop reference for leaders and managers and a tool for academics who desire to fully understand the science of behavior and its application. Dr. Aubrey Daniels and Dr. Jon Bailey partner in this revised classic to deliver updated examples, recent research and a more comprehensive look at behavior-based safety. Now is the time to understand behavior scientifically to effectively manage and produce desired results that positively affect the bottom line.