Information
Celebrating Women Business Owners [Infographic]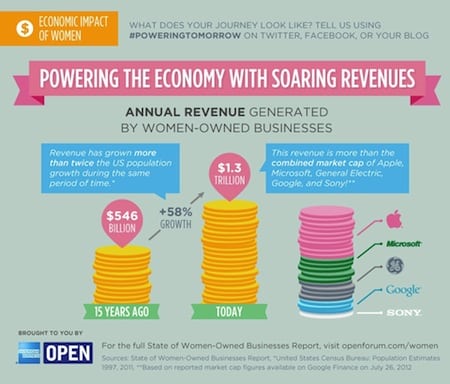 Over the past three weeks, Amex has spotlighted key statistics and successful women entrepreneurs in an infographic series. Here are some interesting statistics.
August 16, 2012
Women-Owned Businesses: Watching an Idea Become a Business
Alisa Volkman, co-founder of Babble said to build her business, "I have learned that the two key ingredients in business, which don't always comfortably co-exist, are personal passion and professional discipline."
"If you have passion and you believe in an idea, you have to be willing to ask for money, to ask for mentorship, to ask for help," she says. "If you don't learn how to deal with the inevitable no's that you are going to receive, you are never going to move forward and pursue your dream. 'No' only means 'No for now.'" – Jenn Hyman
"Success to me also means those moments where I can take a breath, look around and feel great about what I have achieved, be it a deal we've gotten into, a list of top firms we made it onto or something else." – Alexandra Lebenthal
"I love the art of creating business opportunities and working with talented individuals. I also love helping others succeed and seeing them grow and flourish." – Gail Warrior
August 1, 2012
A Look by Industry (Key Statistics)
Women are generating $1.3 trillion in revenues annually. This is up more than 58% over the past 15 years. 
While most of the private sector was cutting jobs between 1997 and 2007, women-owned businesses were creating them to the tune of roughly 500,000 jobs. By 2012, female entrepreneurs employed approximately 7.7 million people.  
Women-owned firms dominate the healthcare industry with ownership of 53 percent of the firms in this sector. Education is another strong sector for women: Some 45 percent of educational firms are owned by women, while on a national scale, 29 percent of all firms are owned by women.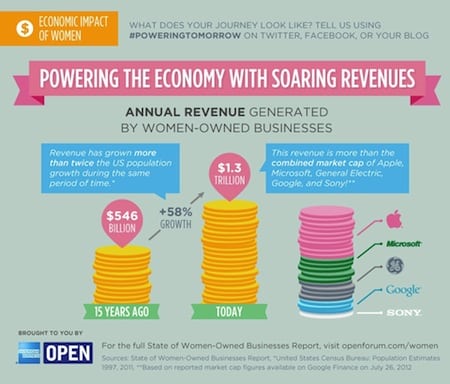 July 24, 2012
Women-Owned Businesses Financing Your Future
Celebrating Women Entrepreneurs: The Magnitude of the Moment
The estimated 8.3 million women-owned businesses in the United States employ 7.7 million people.
The states in which women-owned business have enjoyed the most growth and where they have the most economic clout are the District of Columbia, Nevada and Wyoming. These states are in a three-way tie for first place, with Arizona and North Dakota rounding out the top five.
53 percent of firms in this sector are women-owned. Education is another hot sector; women own 45 percent of educational firms, which is quite impressive considering that on a national scale, an average 29 percent of firms are owned by women. Education, healthcare and social assistance, along with arts, entertainment and recreation, are seeing tremendous growth as sectors.