How To
Entrepreneur's Bookshelf: Click Millionaires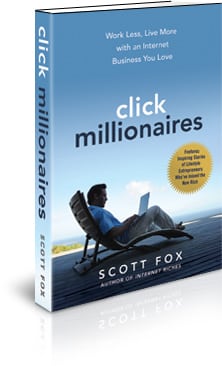 The Book
Click Millionaires
$14.06 in Amazon
278 pages
Author
Scott Fox is a Click Millionaire online entrepreneur and an expert on social media
marketing
and e-business start-up strategies. He is the author of Internet Riches and eRiches 2.0.
Twitter Summary
As the covers says Click Millionaires by @Scott_Fox hopes to help you "Work Less, Live More w/ an Internet Biz You Love"

— Teach A CEO (@TeachACEO) July 15, 2012
Gems
"Unfortunately you have been programmed to ask for permission. From your earliest days in school, authority figures have been limiting your options for their own benefit…. Imagine what could happen if you could stop asking for permission and instead begin living your own life on your own terms."
"One of the first steps on the road to Click Millionaire success is to recognize the value of your own time. You have the opportunity to invest your time instead of just spending it… This 'investment' mindset is key to your long-term success as a Click Millionaire."
"Reading is great, but doing is better."
About the Book
Click Millionaires show entrepreneurs and business owners (and those that aspire to be) how to redesign their life and career around their interest and skills. Everything is broken down in this book in a simple and easy to understand way along with interviews and words of wisdom from "Click Millionaires". This book helps entrepreneurs and business owners start their own businesses by leveraging blogs, YouTube, downloadable content, affiliate marketing, and freelancing. In 278 pages and 7 parts, author Scott Fox tries to arm those "60% of people around the world that don't like their jobs" with the tools they need to change their lives.